Position Openings
We are looking for enthusiastic, talented, team-oriented people whose performance exceeds expectation.
Release Manager
Linux Administrator
To apply for one of the positions above, or to inquire about an unlisted position, please send your resume to careers@lucidoc.com.
Top four reasons you'll love working at Lucidoc:

Growth
The Lucidoc software was originally developed for NASA's Jet Propulsion Lab in 1995 and since then has grown to become a leader in compliance management.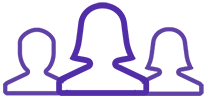 Teamwork
Lucidoc employees work on a team of highly skilled professionals. We place a high value on creative minds, organized ideas, and innovative solutions.

Recognition
Lucidoc is small enough that you will always have a chance to have your work stand out - but don't let our size fool you, we do everything on a grand scale!

Innovation
Our customers are intimately involved in critiquing our work and are key to our success. We pride ourselves on turning customer challenges into innovative solutions.